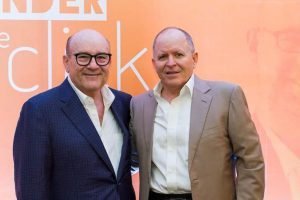 The giant Corporación Multi-Inversiones de Guatemala (CMI), a leader in the food, energy, finance and real estate sectors, is one of the strongest conglomerates in Central America. They have been on the pages of E&N practically since the birth of this publication.
The giant Corporación Multi-Inversiones de Guatemala (CMI), a leader in the food, energy, finance and real estate sectors, is one of the strongest conglomerates in Central America. They have been on the pages of E&N practically since the birth of this publication.
One of the last moves of the corporation was in 2017, when it acquired a shareholding position in Pronaca, a leading Ecuadorian family business in the food sector. Another of its major investments was the purchase, in April 2011, of 40% of Telefónica Central America's assets, with 9.9 million customers in the region.
The co-president of CMI, Juan José Gutiérrez, said then that they were looking to enter the high-tech industry as part of their business strategy. Today, the businessman recognizes that the changes in the last 20 years have occurred at such speed that they have turned transformation processes into a constant dynamic.
"It is our obligation as leaders to take advantage of these changes to improve our services and products, in accordance with the needs of our customers, and thus achieve the expected growth," said Gutiérrez.
For his part, CMI co-president Juan Luis Bosch told E&N that their long-term vision and commitment forces them to project into the future and that is why they have experienced great changes through innovation, technology, the global economy and connectivity. "To them we owe the growth and expansion of CMI's businesses in recent years," Bosch said.
"In 1999 our focus was on a sustainable future. At that time, we had organized our businesses by industry: wheat and corn flour mills, biscuit and pasta production; restaurants with the leading brand Pollo Campero, and poultry and pork production as a growth concept", said the businessman.
In addition, we were beginning the diversification process towards other business concepts in financial services, real estate development and clean energy production with renewable resources. "Internally, we were working on the corporate transformation process, by introducing new technologies, processes and ways of working," he added.
Innovate as a goal
"We innovate to grow and transform ourselves, we seek to expand operations in new markets and join forces in the industries where we participate, to transcend" – said Bosch – "internal work dynamics have made us agile to respond to challenges and make timely decisions, to achieve goals. "
At the corporation they have prepared to grow and transcend; that is why they invested and worked on the following aspects: human capital, the definition of corporate governance and venturing into other markets, with awareness of their role in the communities where they operate.
"A very important consideration for the growth of CMI is that we assume the responsibility of preserving and further building the legacy of Don Juan Bautista Gutiérrez (the founder). Ultimately, the values, experience and learning are our support," said Bosch.
Every day we work under the philosophy of 'don Juanito': "to go happily to work in the morning and return from work happy and with a feeling of accomplishment, based on our values, which we express through the acronym REIR: responsibility, excellence, integrity and respect", he stressed.
Co-president Gutiérrez defines his company as a family-owned multi-Latin corporation of Central American origin, with more than 90 years of history creating investment, employment and development for the region. "We are a family group with operations in three continents. Through our business groups, Foods and Capital, we create sustainable impact in the communities where we operate by offering excellence and quality in our products and services through the use of innovation and technology", he specified.
CMI Foods includes the businesses of wheat flour mills, pasta, and biscuit production; poultry, pork, processed foods, and sausage manufacturing; balanced food for animals and pets; restaurant industry, with the Pollo Campero brand, among others.
CMI Capital has renewable energy generation projects; real estate projects, financial service businesses and new businesses.
Today they operate in more than 15 countries in 3 continents: Guatemala, El Salvador, Costa Rica, Honduras, Nicaragua, the Dominican Republic, Haiti, Anguilla, Panama, Mexico, the United States, Ecuador, Spain, Bahrain and Italy.
What's coming
Bosch stated that in the next 20 years they will focus on three main areas: Developing new ideas with vision, creativity and talent that transcends; continue working on system integration, human capital management, taking advantage of synergies and economies of scale and finally, strengthening our operations to continue growing.
It is no small thing for a business group of such size, whose goal is to turn it into a world-class corporation. "We wish to keep our commitment to promote better living conditions and more developed and sustainable communities," said the businessman.
Gutiérrez added that, for more than a decade, they have been working on a strong program of values ​​inherited from the founder, through which they constantly train their more than 40,000 employees on behaviors that follow the principles and values ​​that govern them.
"At CMI we always seek to honor established agreements and we keep our word. Along these lines, we have created a clear system of checks and balances governed by our corporate governance. Furthermore, we are committed to the sustainable development of the communities where we operate. Therefore, we invest time and resources to create programs and projects to achieve this," Gutiérrez explained.
Bosch explained that this transformation and adaptation are achieved through leadership that is based on integrating the acquired experience and knowledge of a new generation of professionals committed to the corporation. "That is the success of CMI, the success of our businesses and it is the success of those who build their professional careers based on our values."
Gutiérrez believes that leadership is increasingly closer, with a strategic and innovative approach. This new leadership is required to be respectful, responsible and upright citizens, capable of adapting to the current dynamics of the workforce that is increasingly made up of younger generations.
Sector in which they operate:
CMI Foods: Modern Flour Mills, Livestock Industry, Food and Consumption, Central American Restaurants, Campero USA, Strategic Investments.
CMI Capital: Energy, Real Estate, Finance.
Recognition
At the end of 2018, Standard & Poor's Global Platts awarded them the Corporate Social Responsibility Award (Diversified Program) for their shared value strategies in the energy sector worldwide.
Recent moves
2019: US $13 million investment. Multi-Proyectos began the construction of the Pradera Shopping Center in Zacapa, Guatemala.
US $70 million investment. CMI, in partnership with Tecun, S.A. promote the development in Guatemala of the Vistares project, a shopping center and an apartment building in Guatemala City.
US $800 million investment: Renace hydroelectric complex.
2018: In partnership with AES of El Salvador, the Bósforo project was inaugurated, which consists of 10 solar power plants that will generate a total of 100 megawatts and will have the capacity to supply electric power to 37,000 homes.